【PRESS RELEASE】Fostering Diversity and Empowering Youth: NPOs and Corporate Leaders Launch Board Fellow Program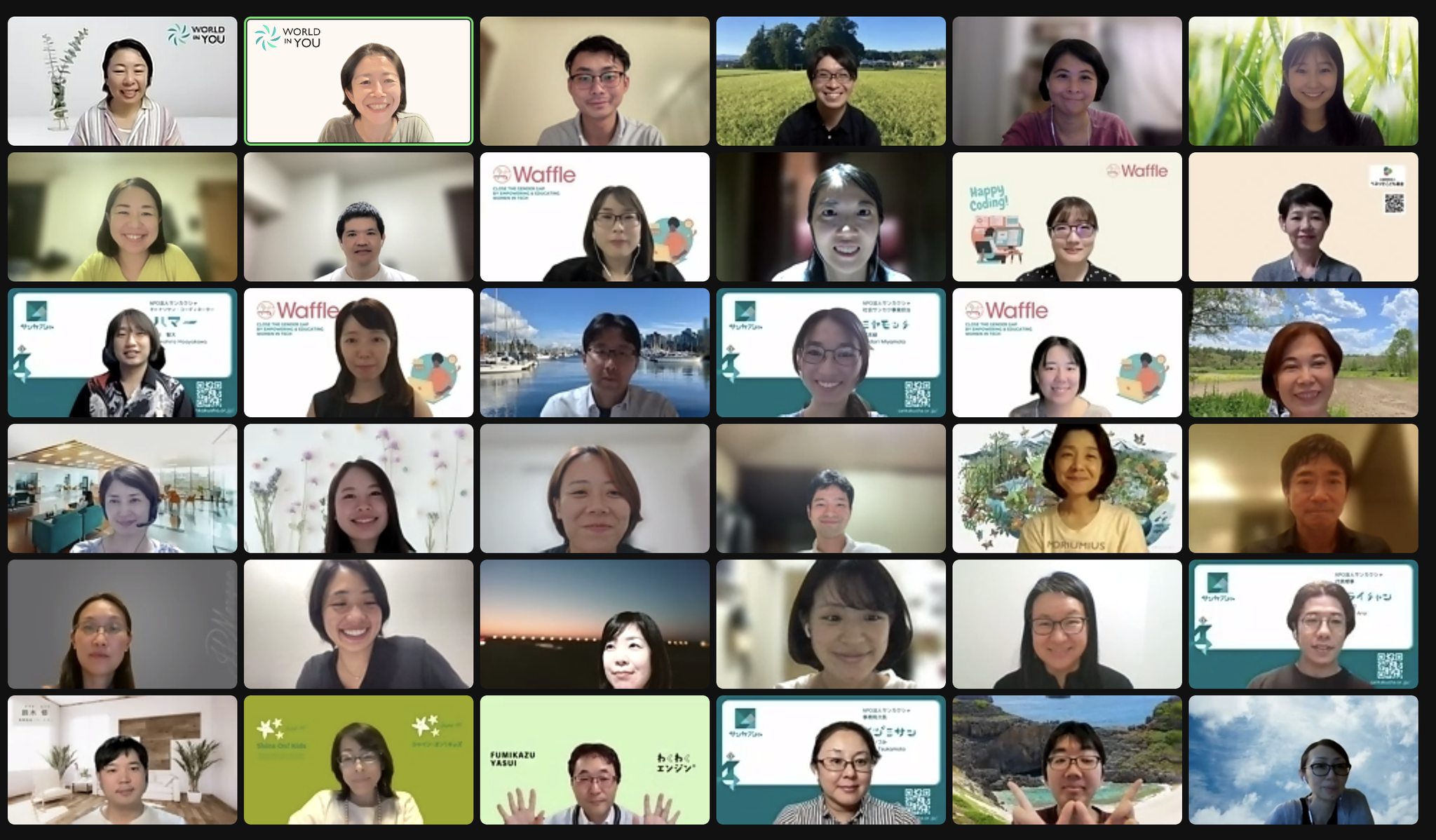 FOR IMMEDIATE RELEASE:
September 29, 2023
World in You
info@worldinyou.org
Business and Nonprofit Leaders Collaborate to Foster Diversity and Empower Youth: World in You Starts the Third Term of Nonprofit Governance and Board Training
Tokyo, Japan and online: In September 2023, World in You announced the start of the second term of the Board Fellow Program to encourage cross-sector collaboration between private companies and non-profit organizations and develop future social impact leaders. The theme of the program this year is Fostering Diversity and Empowering Youth.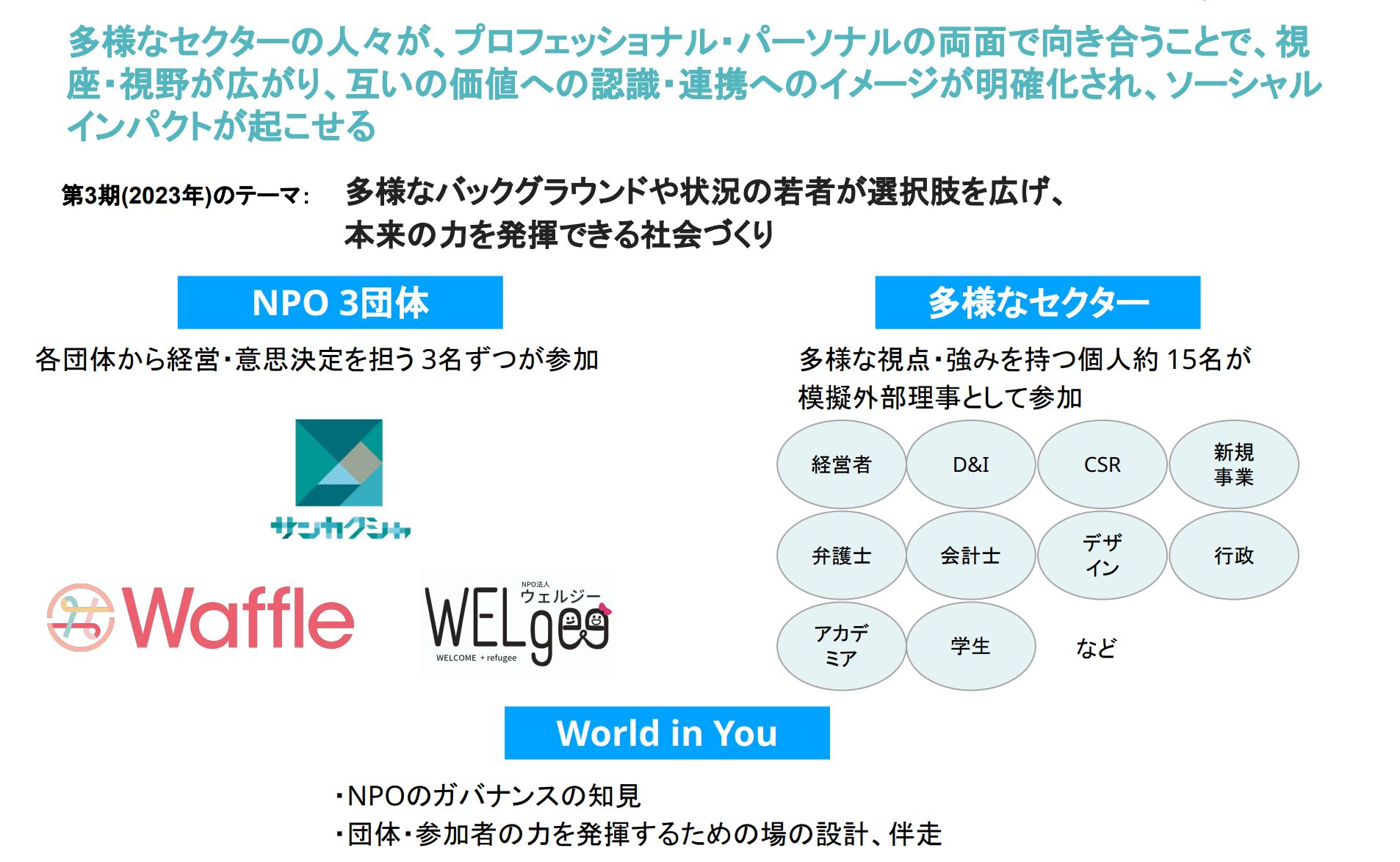 This year, three nonprofit organizations that focus on "building a society where young people of diverse backgrounds and circumstances can expand their choices and realize their full potential" participate. These organizations include WELgee dedicated to creating an environment where refugees can thrive; Sankakusha, supporting youth social participation and self-reliance; and Waffle, committed to eliminating gender gaps in the IT and STEM fields.
Joining these nonprofit entities are 15 participants from the private sector, spanning business leaders responsible for management and sustainability, lawyers, accountants, and individuals associated with nonprofit organizations and universities.
The Board Fellow Program distinguishes itself by going beyond traditional volunteer activities. Participants learn about the "governance of nonprofit organizations addressing social issues" and actively contribute in a pseudo outside board of director capacity to address real management and societal challenges faced by the organizations. The program aims to foster enduring collaborative relationships across organizations and sectors, with instances where participating business leaders have transitioned into officers or advisors for nonprofit organizations.
World in You, in addition to the Board Fellow Program, regularly hosts the interview series "World in You × Org," and featured the three participating nonprofits in the Board Fellow Program as well. Archived articles and videos are available here.
Waffle, one of the participating organizations, , expressed enthusiasm about the opportunity, stating, "As Waffle enters its fourth year of operation, we have witnessed consistent growth in staff size and the scope of our activities. Deliberating on the direction of our operations and organization is crucial for success as we work towards realizing Waffle's envisioned future. We are thrilled to engage in discussions about Waffle's future from diverse perspectives alongside the remarkable members gathered by World in You."
◆ About the participating nonprofits:
●WELgee
In Japan, where refugee recognition is stringent, the aim is to provide a pathway for each refugee to pursue their career and life goals through collaboration with diverse sectors. They leverage the strengths of refugee talent through services like "WELgee Talents," a talent introduction service that contributes to diversity promotion and innovation generation in Japanese companies. They also operate a "Training Program" that provides development opportunities and engage in "Collaboration Projects" to create value by harnessing these strengths.
●Sankakusha
They are supporting the social participation for young people aged around 15 to 25 who cannot rely on parents or close adults, ensuring that they do not become isolated and can work towards self-sufficiency. They provide companionship and support for young people who may have lost the motivation to live and engage in something. Their aim is to help these young people establish a sense of belonging, connect with society, lead stable lives, and live in a way that is true to themselves. They focus on creating a sense of place and providing support for employment and housing. Furthermore, adults from the community and companies also engage in this activity, creating connections where both young people and adults support each other, transcending age, position, and titles.
●Waffle
They are working to eliminate stereotypes such as "this is what programmers must be" and "girls struggle with STEM subjects," with the goal of increasing the number of women who soar in the IT and STEM fields on a global scale. They are conducting various activities, including providing opportunities for programming learning and app contests. Looking ahead to a future where these young women can excel on the global stage, they aim to spark interest among high school girls in ICT, helping them acquire not only hard skills like coding but also soft skills such as assertiveness and presentation abilities. They provide comprehensive support to prepare them for success in the technology field.
◆ About the participants:
In addition to the above non-profit organizations, the following are the participants from various sectors including business, academia, and social.
| | |
| --- | --- |
| Tomohiro Aoki | Benesse Foundation for Children、Benesse Corporation |
| Mina Uno | Benesse Foundation for Children、Benesse Corporation |
| Noriko Ochiai | PLANET Boston Inc. |
| Chiho Kuriyama | Mitsubishi UFJ Research and Consulting (MURC) |
| Ayane Kodama | Ernst & Young ShinNihon LLC |
| Shuhei Sasayama | Nishimura & Asahi |
| Rika Shimada | JP Morgan Asset Management |
| Osamu Suzuki | TAKAGI BUILDING Co., Ltd. |
| Aya Nishikawa | Sony Group Corporation |
| Miho Neely | Shine On! Kids |
| Akihiro Honda | Tama University Center for Social Investment (CSI), Social Venture Partners Tokyo (SVP Tokyo) |
| Sachiko Maruyama | FBAA (The Family Business Advisors Association Japan) |
| Daisuke Miyazaki | NPO Japan Kodomo-Shokudo Support Center "MUSUBIE", 、NTT East |
| Yoshihide Murata | Suntory Holdings Limited |
| Fumikazu Yasui | JAPAN AUTOMOBILE FEDERATION (JAF) |
◆ Expert Pro Bono:
| | |
| --- | --- |
| Yu Ishida | Kwansei Gakuin University |
| Aya Okada | Tohoku University |
| Kanetaka Maki | Waseda University |
| Noriko Ichigi | Suntory Holdings Limited |
| Miho Kito | Center for Systems Awareness |
◆ Message from the participating nonprofits:
WELgee
"WELgee, which began as a student organization, has undergone a transition to a new management structure over the past year. This change was prompted by the increasing needs from stakeholders, rapid societal shifts, the growth of our paid members, the increasing complexity of management, and the emergence of distinct leadership styles. While we've made progress in understanding the essentials of organizational management, we still face challenges.
As we enter a phase where we want to bring in external directors who can complement our current team while harnessing the strengths of each management member, we decided to participate in this opportunity."
Sankakusha
"As the need for supporting young people continues to grow each year, we have reached our fifth year since establishment, and our activities and organization have expanded. We have been diligently creating programs to meet the needs of the young people right in front of us.
Moving forward, we aim to further strengthen our organizational structure and business foundations to expand our activities with the help of many more individuals. Through World in You's fantastic members and well-crafted programs, we look forward to the next six months with the goal of improving the environment surrounding our organization and the young people we serve."
Waffle
"As Waffle enters its fourth year of operation, we are pleased to report steady growth in our staff numbers and the expansion of our business scope, thanks to the support we've received. As we continue our journey towards realizing the future envisioned by Waffle, we believe that giving careful thought to the direction of our operations and organization is a key to success.
We are delighted to have this opportunity to engage in discussions about Waffle's future from diverse perspectives alongside the remarkable members gathered by World in You."
For more information on the Board Fellow Program:
Please contact info@worldinyou.org if you are interested in programs on nonprofit boards, governance, and cross-sector collaboration to solve social issues.
About Us:
World in You cultivates leaders, organizations, and communities that co-create across boundaries to better society. We have provided leadership development programs to 200+ mission-driven organizations, 500+ leaders from the business and social sectors, and students.
Book "Governance of non-profit organizations" (2020, Eiji Press)