11/20-11/21: Speaker Series on Empowering Women's Work #4 - Closing gender gap in the politics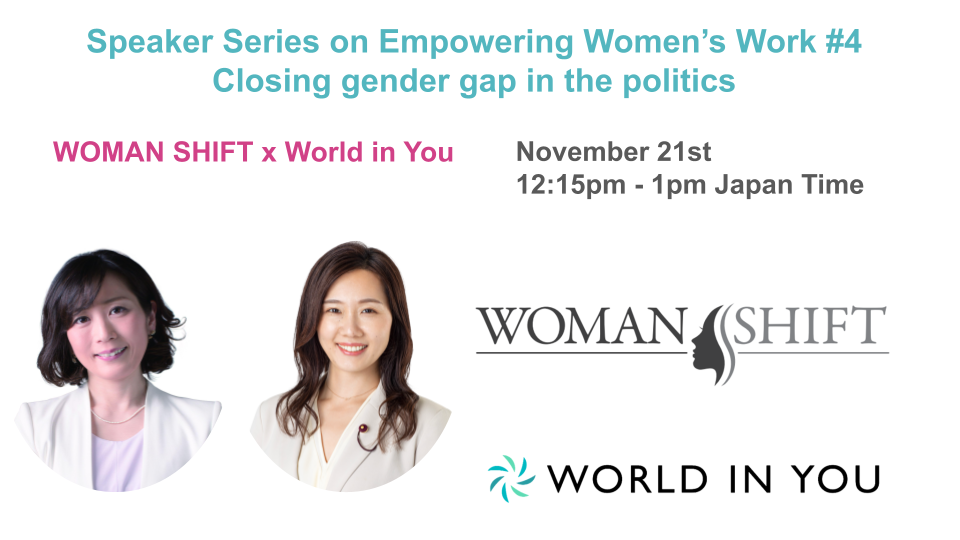 The gender gap is the widest in the politics category in the Global Gender Gap Report 2022 by the World Economic Forum. Japan especially lags behind at 139th out of 146 with the low ratio of women representation in parliamentary and ministerial positions. (9.7% and 10.0% respectively.)
Please join us for an online event to learn about how a nonprofit organization WOMEN SHIFT has been working to increase the number of female council/parliament members and further represent women's voices in the policymaking process in Japan. We will hear from two female City Council members from Tokyo - Sayo Homme (Representative Director of WOMAN SHIFT, a Taito City Council member) and Mayu Tazoe (Director of WOMAN SHIFT, a Meguro Ward Council member).
This event is the fourth of our speaker series featuring organizations in women's empowerment this year.
The event will be in Japanese.
◆When: November 21st, 12:15pm - 1pm Japan Time
Speakers' talk about the work of WOMEN SHIFT, followed by Q&A
◆Where: Zoom (Link will be sent after sign-up)
◆RSVP: Sign up here or contact us
◆Admission: Free
◆Speakers (titles omitted)
Sayo Motome, WOMAN SHIFT Representative Director / Taito City Council Member
Mayu Tazoe, WOMAN SHIFT Director / Meguro Ward Council Member
*Mayu is one of the participants of the Board Fellows Program 2022.