Empowering Women in Tech – Social Builder's Systemic Approach to Break Barriers and Bridging the Gap 【World in You x Org #10】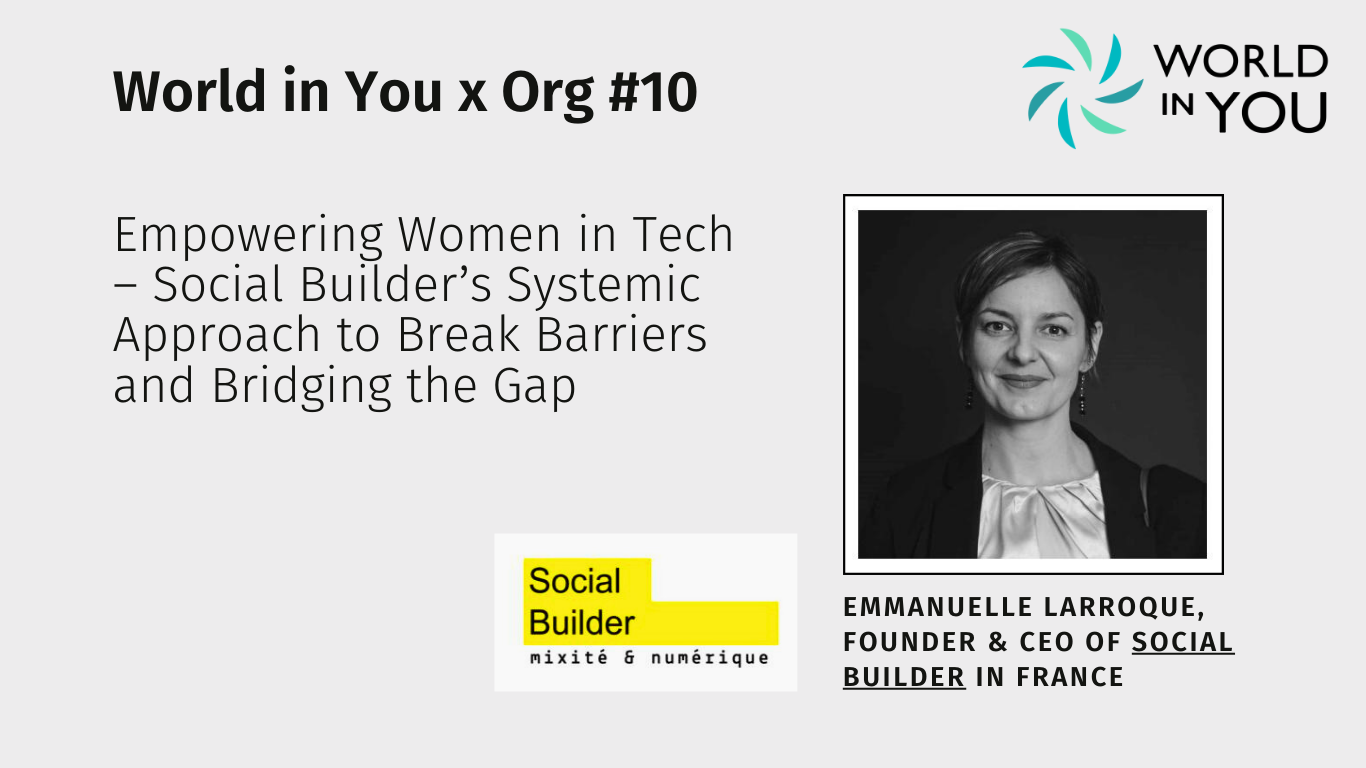 World in You x Org interview series feature innovative impact organizations working to create a better society. As women's empowerment is one of World in You's focus over the past three years, we have published stories of such social entrepreneurs in Japanese and English. This article is a summary of our interview with Emmanuelle Larroque, Founder & CEO of Social Builder in France. Enjoy the full conversation on YouTube.
Interviewer: Mio Yamamoto and Miho Kito, Article: Miho Kito
~ Key message of this interview ~
Empowering women in the tech industry: Over the past 12 years, Social Builder has provided free programs to empower and support unemployed women, resulting in the support of 80,000 women in their career transitions to tech and digital jobs.
Addressing gender inequality in tech: In France, where the tech industry has only 26% female representation and 16% of women hold engineering and coding jobs, Social Builder is dedicated to making a difference by promoting gender equality and creating opportunities for women in the industry.
Comprehensive and collaborative approach: With a network of over 300 partners, including trainers, professional coaches, mentors, and non-profit and tech organizations, they offer personalized support through three pillars: exploring, training, and connecting. By creating a secure and supportive learning environment, they enable women, including solo mothers, socially disadvantaged individuals, and those from migrant backgrounds, to gain the skills and opportunities they need to succeed.
Scalable impact and global vision: Social Builder is building a platform (the academy) to supplement its programs, facilitating personalized and holistic learning experiences. With the goal of supporting women in the digital transition worldwide, Social Builder aims to disseminate its programs in different countries, contributing to women's skills development in STEM and promoting their contributions to the future of society.
This article is a summary of the interview. Please enjoy the full interview on Youtube and Podcast.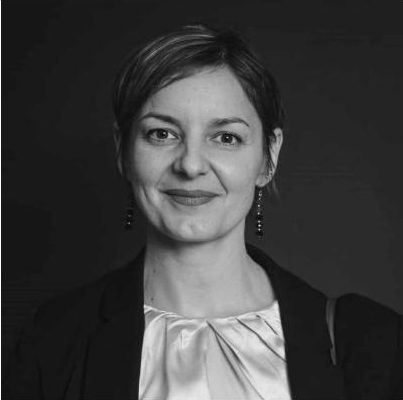 Emmanuelle Larroque, Founder & CEO, Social Builder

Emmanuelle Larroque is a social entrepreneur with expertise in themes at the crossroads of gender equality and women's leadership in the economy. She is the founding director of Social Builder, an association that works in favor of guidance, training, integration of women in digital technology and support for organizations to create an inclusive culture. Social Builder is laureate of La France engagements, Grande Ecole Numérique , Paris Code or PIC 100% inclusion . Ellae is champion of the "Tech and innovation" coalition of the Generation Equality Forum.

・・・・・・・・・・・・・・・・・・・・・・・・・・・・・・
― How did you start Social Builder?

Social Builder is a non-profit organization that has been providing free programs to empower and support women for 12 years. We focus on helping unemployed women shift their careers to tech/digital jobs and collaborate with companies, government agencies, and other non-profits to accelerate this change.
In France, the tech industry has only 26% female representation, and only 16% of women hold engineering and coding jobs. As a result, I am motivated to dedicate my professional life to contributing to gender equality and making a difference in this field.
― What is the origin of your passion for equality?

My passion for fighting inequality stems from my parents who made me aware of the various forms of inequities and the challenges faced by people from different backgrounds. Despite being told that everything was possible and equal for both genders, I observed a lack of equal education and opportunity for girls. I have since worked to empower women from diverse backgrounds, regardless of age, education, or employment status, by providing programs to help address the barriers that prevent women from entering the industry.
― After completing your MBA, what led you to focus on the social sector and specifically on women's digital inclusion?

After completing an MBA and working in tech consulting, the dynamics between men and women in the industry prompted me to study sociology of organizational innovation and gender, leading to creating programs for young people facing social barriers to education. This led me to discover my passion for gender equity and make a difference in the field, despite it not being a typical choice for MBA graduates. Today, I see a growing desire among younger generations to make a positive impact on social and environmental issues through their professional lives.
― What are the primary activities conducted by Social Builder?
At Social Builder, we offer a comprehensive approach to support women in tech. We first identify those who are interested or passionate about tech and help them develop their skills through education and training, with the goal of finding them jobs in the industry. Our programs, which are divided into three pillars: exploring, training, and connecting, are available for free to any unemployed woman, regardless of their level of tech expertise. We work with over 300 partners, including trainers, professional coaches, mentors, and other non-profits and tech organizations, to provide support. To date, we have supported 80,000 women.
― What are the characteristics of unemployed women who go through your program and become successful?

The program helps unemployed women gain the necessary skills to stay or re-enter the job market, especially in the digital era. Women from various demographics, including those who are unemployed, between 18 to 63 years old, solo mothers, socially disadvantaged, disabled, and from migrant backgrounds, are supported. The women supported by the program typically take one to three years to make their professional projects related to tech or learning a new profession a reality.
― What exactly do you offer in the "three pillars"?

1. Exploring pillar
In the exploring part of our program, we use a chatbot to help women identify their preferences and interests, and suggest relevant job opportunities in the digital industry. We aim to showcase the diversity of jobs available, and not just technical roles, but also those that require communication and leadership skills. We provide job descriptions that highlight the purpose and impact of the job, and the skills needed to excel.
We also organize large events where women can learn from others who have transitioned to tech careers, and participate in workshops to gain hands-on experience in coding, 3D printing, and web development. We also work on building their leadership and communication skills, helping them to articulate their accomplishments and project ideas with confidence.
Overall, our program aims to empower women to explore and pursue meaningful careers in the digital industry, and to provide them with the support and resources they need to succeed.
2. Learning pillar
In the learning part, programs ranging from one week to 15 months are offered to learn specific skills or to do a job. During the 15-month programs, participants work part-time in a company and part-time in the training center to learn while doing the job. Before entering the job, they have three months of insights in the digital school to learn the basics and have something to show when entering the company.
3. Connecting pillar
The connective part of the program involves workshops where partner companies are involved, who have diversity, inclusion, and equality policies. They provide job offers after the hiring process and interviews. Mentors from those companies support women during training programs so that they can better sell their skills at the end of the program. During interviews, there is ample time for the women to share their contributions and to learn more about the company's values, culture, and what they stand for. The program aims to create a human-to-human connection.
― What are the challenges and the best practices in mobilizing and engaging with all the various stakeholders for a systemic approach?

The main focus of the work is on a multi-stakeholder approach to create bridges between companies and beneficiaries. However, this requires an understanding of the needs and potential of both parties and finding a way for them to work together effectively. The process involves a lot of listening, and it is important to work only with those who share similar values and ways of working. The key to success is in adapting the teaching pedagogy to create the right environment for beneficiaries to succeed. The human experience is also crucial, with mentors and coaches providing support and motivation to overcome challenges and not give up. It is a complex process that requires a lot of effort and love.
― What is the business model? How do you sustain the value through the system?

The organization's business model is based on a multi-faceted approach to sustain value through the system. The exploration part is financed by companies and the government, with the latter providing significant support for reskilling and upskilling initiatives. For the training part, there are two customers - the government and companies looking to hire. The recruitment part involves pro bono companies offering access to employees who help women find jobs, in addition to jobs offered by companies themselves. The business model is strongly rooted in our public policy that supports skill development.
― How do you make both aspects possible to provide the personalized/holistic programs and to scale the impact?

We are developing a platform which is the academy that facilitates human interaction and delivers skills. We believe that human-to-human interaction is crucial for success and that the platform can only supplement, not replace it. The goal is to create a learning environment where people feel secure and supported, and where they can connect with others to find meaning in what they learn. I would like to emphasize the importance of women being involved in the digital revolution and ensuring that they have a role to play.
― How do you find like-minded people or adequate people to work with?

The COVID-19 pandemic has brought about a shift in companies' approach to their business models, with many recognizing the importance of digital technology and investing in diversity, inclusion, and equality to increase their chances of survival. There is now an opportunity to integrate human beings into organizations differently, with a focus on core business rather than just corporate social responsibility. Many organizations are also adopting a purpose-driven approach, creating an entry point for those looking to help make their purpose a reality. By connecting with leaders who are conscious of the dynamics affecting their employees' lives, it is possible to work together to make organizations more efficient, meet their purpose, and create a better workplace for all. We are working with companies who share a sensitivity to our mission.
― When you extended into New York in 2019, what was the process? Why did you decide to do so?

Our goal was to provide an efficient solution for companies and individuals seeking career transitions. However, we discovered that despite mature discussions around gender equality, there was still a lot of segregation and inadequate infrastructure for women in tech, such as the lack of daycare and unequal education systems. Also, there are still many stereotypes and biases against women in the job market, and that many companies shut down their diversity and inclusion programs during the pandemic. The economic shocks in the US are more severe and unpredictable compared to Europe, where there are more social safety nets and a longer-term growth potential. So, we felt the need there in the US.
― In the future, like 10 years or 20 years from now, where do you want to go?

Our goal is to support women in making the most of the digital transition around the world. We are currently building a foundation with their platform, the academy, to disseminate their programs in different countries, supporting local efforts and policies to advance women in economic growth. The aim is to advance women's skills and capacity building in STEM and open up the innovation and tech world for women to make great contributions to the future of our society.
―Have you been systems approach minded from the beginning or developed your approach as you have come?
In order to make a long-term change, I have always believed in working on both creating the right environment for women to succeed and supporting women empowerment. Partnership building and a multi-stakeholder approach have always been at the core of our approach. We believe that the how can change over time and that innovative approaches are necessary to solve the issues we are working on. While execution is key, the programs can change, but the vision remains the same.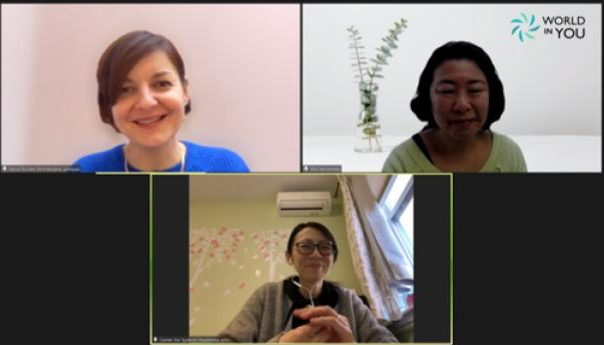 ▼Post-interview comment from the interviewer
Even after the public recording ended, from her keen and genuine curiosity, Emma continued asking us questions about World in You and Nobel. (Nobel, a nonprofit in Japan, and World in You were jointly awarded the Google Impact Challenge 2021, and Social Builder was also one of the awardees.) She expressed her happiness at the possibility of aligning their efforts towards women's empowerment in the future. I was deeply impressed by the approach centered on humanity and the rationality of advancing activities at the systems level. I learned from Social Builder - the possibility of combining individual authenticity in work while scaling through technology. (Miho Kito)
・・・・・・・・・・・・・・・・・・・・・・・・・・・・・・
▼Please tell us your "world in you"!
"World in You" here means "How do you want to spend your time and life? How do you want to connect/interact with the world and society through your life?" Please use this form to tell us what you think.