Coexist With Your Vision Rather Than Striving for it ー Mio Yamamoto 【World in You Story #1】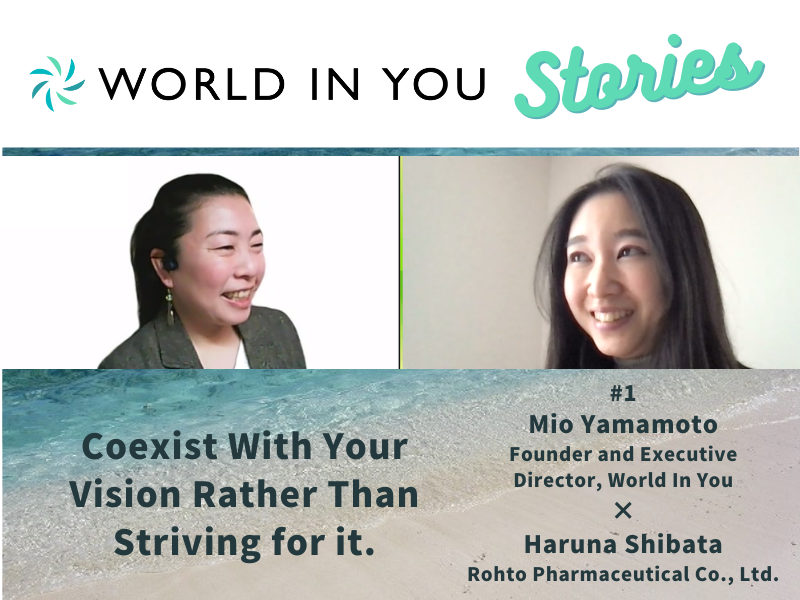 World in You Stories is a series of interviews with people from around the world who are working on something or living their lives with the hope of making the world a better place in small steps. We hope that when the world in you and the world in someone else meet, they will enrich each other and lead to a better society.
Our first interviewee is Mio Yamamoto, Executive Director of World in You, and the interviewer is Haruna Shibata, who participated in the World in You program in 2020 and has experience in public relations, CSV, sales, and community relations at a for-profit company.
Story teller: Mio Yamamoto
Mio's lifelong vision is change-making communities where everyone takes a step forward across boundaries to better society. She became interested in bridging the social and business sectors in college. After working for Sumitomo Chemical and McKinsey & Co. and supporting social entrepreneurs at Social Venture Partners Tokyo, Mio co-founded WIA (then WIT and now World in You) in the wake of the 2011 Tohoku Earthquake and Tsunami. She has been the Executive Director since 2013. She lives in Boston, USA.
Interviewer: Haruna Shibata
Haruna joined Rohto Pharmaceutical Co. in 2013 to work as a sales representative for drugstores in the Koshinetsu area, Japan. She was then transferred to the MICHINOKU Future Fund, a scholarship fund for disaster-affected orphans, to support and collaborate with the affected communities from the 2011 Tohoku Earthquake and Tsunami. In 2017, she joined the Public Relations and CSV Promotion Department to connect in and outside of the company, engaging in internal and external public relations and corporate branding.
This article is a summary of the interview. Please enjoy the full interview via podcast. (Podcast is in Japanese.)
・・・・・・・・・・・・・・・・・・・・・・・・・・・・・・
Feeling strong discomfort when "differences" create "divides"
― What are you working on now?
I run World in You as Executive Director, with a vision of people coming together from all walks of life to make a better world. World in You's projects may seem diverse, but our goals are consistent: to nurture leaders, organizations, and communities, and to catalyze and support collaboration across sectors, such as non-profit and business, in order to realize our vision. In addition, I am also involved in non-profit activities and social issues in my private life. For some reason, I've always been drawn to this kind of work.
― What brought you to the current activities and the way you think?
There are two formative experiences, both from my childhood. I am the eldest of four siblings, and I was better at school than my younger siblings. People around me would always use the single standard of grades to compare me and my younger siblings. But I thought that was very unfair. Even though my younger siblings have their own uniqueness and strengths, we tend to be evaluated by the people around us based on our educational attainment. Even at a young age, I felt uncomfortable with this gap.
Another episode happened when I was in the first grade of elementary school. At the time, a Japanese-Taiwanese student was transferred to our class. She didn't speak much Japanese, so she couldn't fit in. I was very sad that she did not fit in with the class just because we spoke different languages. So one day, on my way home, I gathered up my courage and approached her. "Won't you be my friend?" She responded with a smile and we began to hang out a lot. I still remember her smile.
These two formative experiences and others led me to become interested in working together with diverse people in a mutually respectful way.
― I was impressed by your "embracing" facilitation in the Board Fellows Program I participated in last year. Does this reflect your childhood experience and desire to embrace diversity?
I think so. Furthermore, for example, even if it is another Japanese person, different people expect different things in the same situation and resonate with different words. Especially in virtual programs we facilitate, I assume that each person takes in different amounts of information and responds differently to certain ways of phrasing things. So I try to match my words to the person, and hope that my message reaches them. I also try not to assume that I can make myself understood just by saying something once. I try to catch non-verbal information such as facial expressions and aura, and keep communicating.
Don't let your vision end up as a dream
― What phase of your life are you in right now?
Only recently have I finally been able to express more openly what I want to do and what interests me. My aspiration has always been the same, but until now I have avoided expressing them because I was not sure if I could get them across well. However, I have realized that it is okay to express what I want to do in a straightforward manner as long as I make the effort to explain and link specific activities and initiatives to my vision. Even now, I am not yet able to do this perfectly, but I would like to be aware of it often.
― What do you especially keep in mind?
First of all, I think that we ourselves need to embody what the organization stands for. For example, each team member should think about what the vision means to each of us and act on it. I feel that the most important thing is to live our everyday lives with the vision.
In addition, I value new encounters and enjoy meeting new people. I believe that by doing so, we will be exposed to more diversity, which will lead us to new discoveries that will help us realize our vision.
― What kind of initiatives are you planning for the future?
We want to be able to bring together people with "completely different worldviews."
When we bring together the non-profit and business sectors, there are many more that we can do. Also, we would also like the world to know about nonprofits working to solve social issues in Japan. There is an information gap between Japan and the rest of the world, and some even think there are few social issues in Japan.
In order to collaborate with more players for a shared vision, it is important to make us discoverable online and offline. We believe that our programs and activities can change as time changes under the same vision. We would like to do what excites us, always thinking about what we can do, while keeping an image of myself coexisting with the vision. I would like to create an environment where people can express their voices and take action.
― What does "world in you" mean to you? In a word, what is the most important thing for you?
It means that I myself am "encountering various worlds and people. I can gain something by practicing "World in You" little by little every day, and I can give back to our activities. I would like to hear more and more about what the World in You means to you.
▼Post-interview comment from the interviewer

First of all, I envied and thought it was cool that Mio is able to take what she's learned from her formative experiences, and use that to straightforwardly embody her vision.
Experiences can change one's life even after growing up. I am sure that many people will have experiences through World in You in the future and have the opportunity to change their lives. I myself experienced this through the Board Fellows Program.
I hope that more and more people will have the opportunity to encounter a new self and a new world through connecting with Mio and World in You. I am excited to continue supporting World in You.
・・・・・・・・・・・・・・・・・・・・・・・・・・・・・・
▼Please tell us your "world in you"!
"World in You" here means "How do you want to spend your time and life? How do you want to connect/interact with the world and society through your life?" Please use this form to tell us what you think.
(This article is a summary of the interview. Please listen to the podcast for the full interview)